Maximize your margin by following your top-performing competitors
and getting arbitrage bets signals.
Give your trading and risk
departments
an unfair advantage.
Mastering arbitrage betting since 2011
100+ bookies—including tier 1 sportsbooks—scanned in real time
2.5m+ arbs and valuebets found every minute
TOP Performing
Follow your top-performing competitors
Monitor bookmaker odds of up to 9 In-Play
or Prematch events on a single page.

Get "Market High" signals and detect
"Market movers".

Get signals for Arbs and Valuebets based on your odds.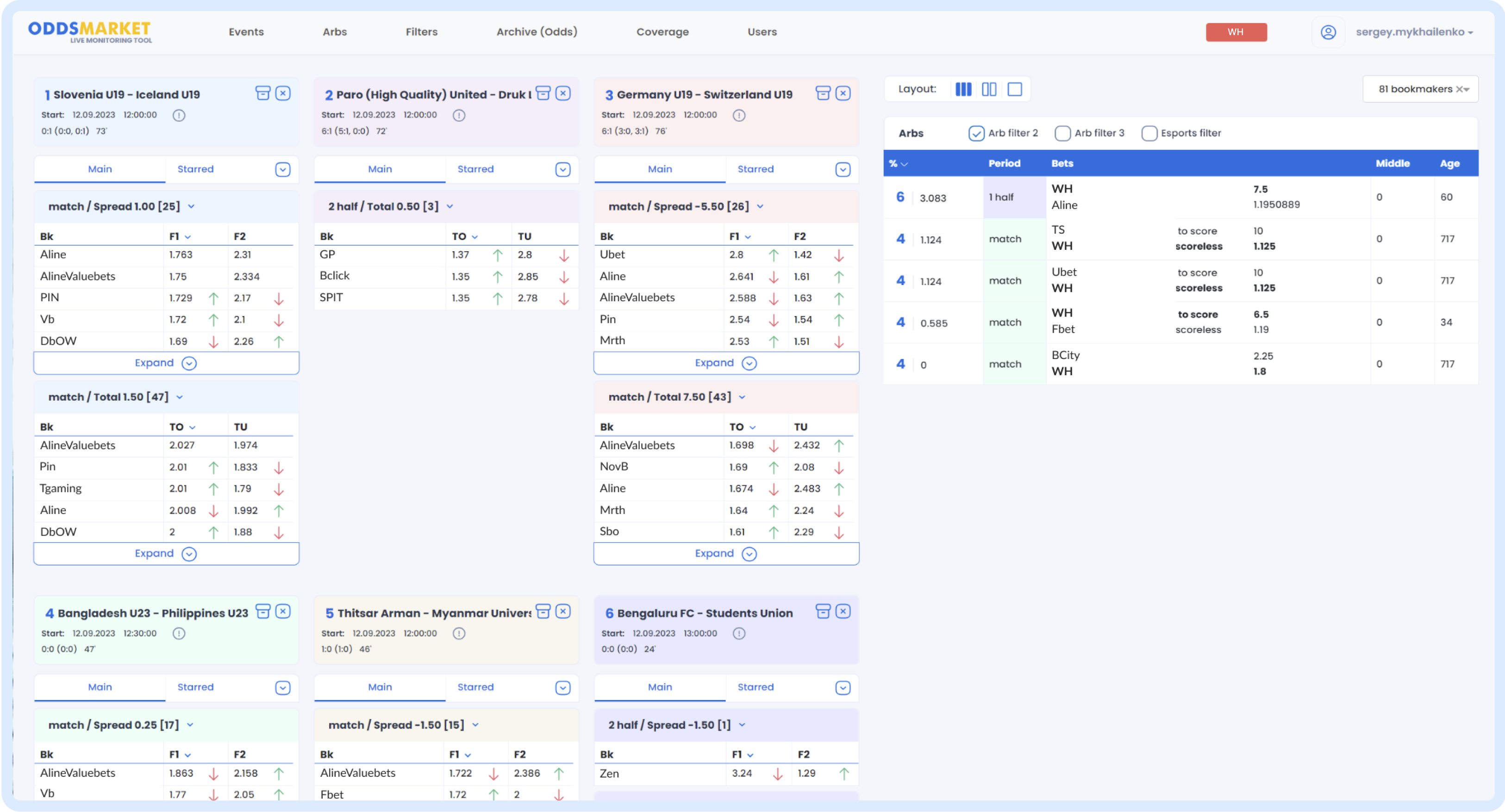 Trusted by industry leaders:
arbitrage bets
Manage risk in your trading line by getting arbitrage bets signals
in real-time for Prematch and In-Play events.
You can monitor up to 9 concurrent in-play traded events and get arbitrage
bets signals for them at a single page.
Features include:
Odds comparison (select reference bookies from the list, we offer 100+ of world's most known sportsbooks).
Live score, period, minute of the match, and interruption statuses.
Historical odds (possibility to compare your odds with a reference competitor since the start of the match.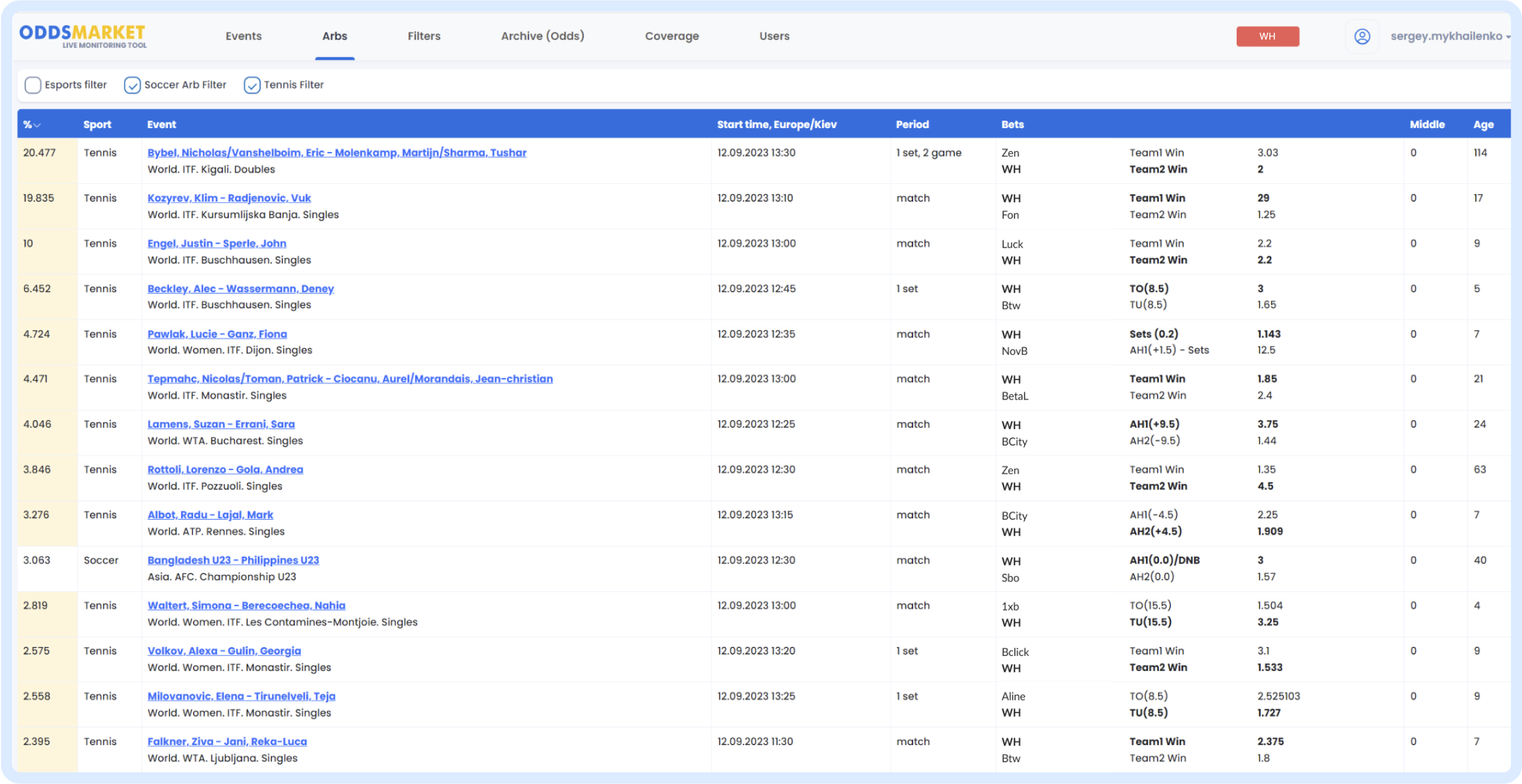 Receive Arbitrage and Valuebet signals on Live and Prematch events.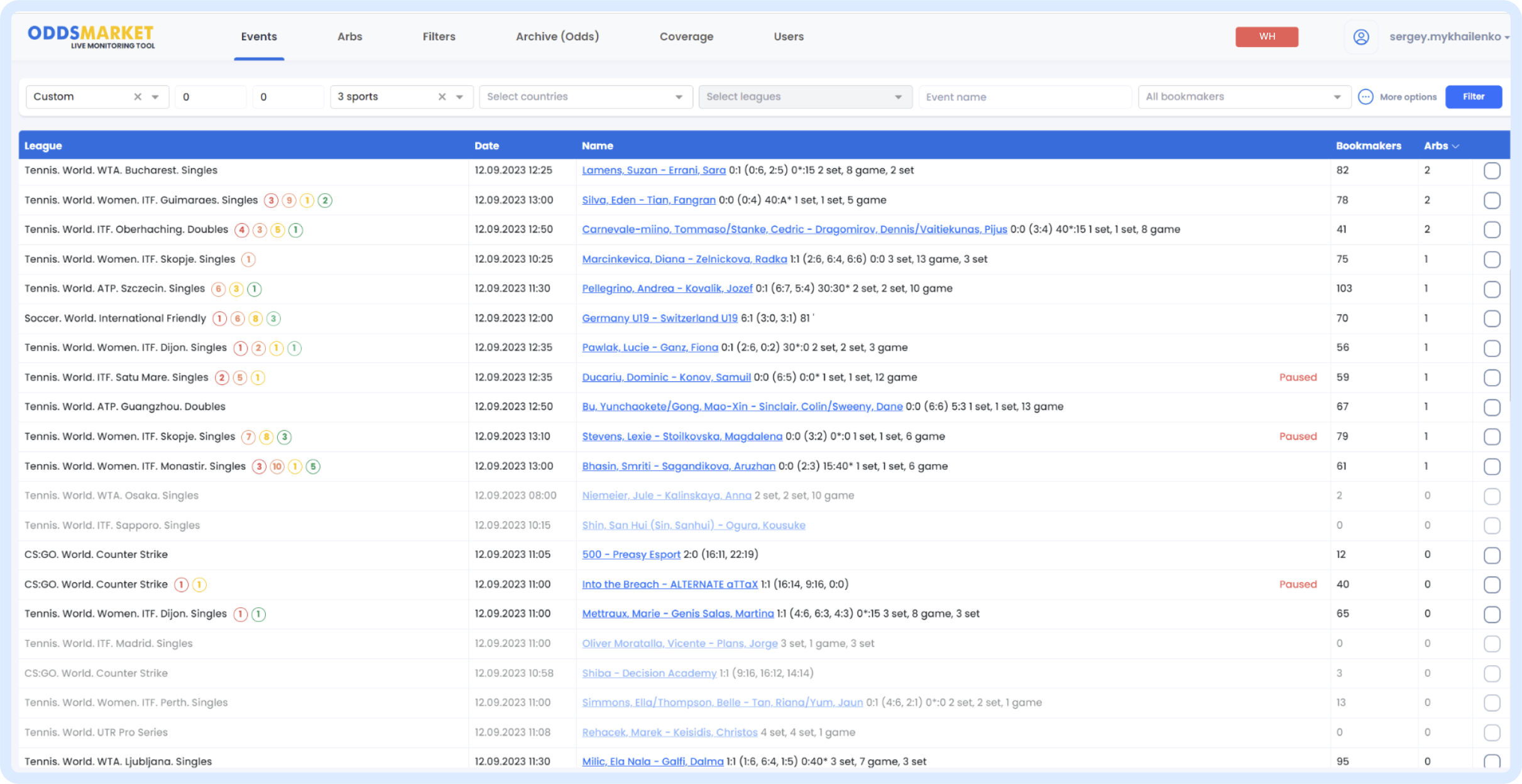 Organize events for each sport. Receive signals on your overpriced markets in each event.
Trading
Analyze trading strategies
retrospectively and manage risk.
Get access to Odds Archive with two-month data retention.
See markets coverage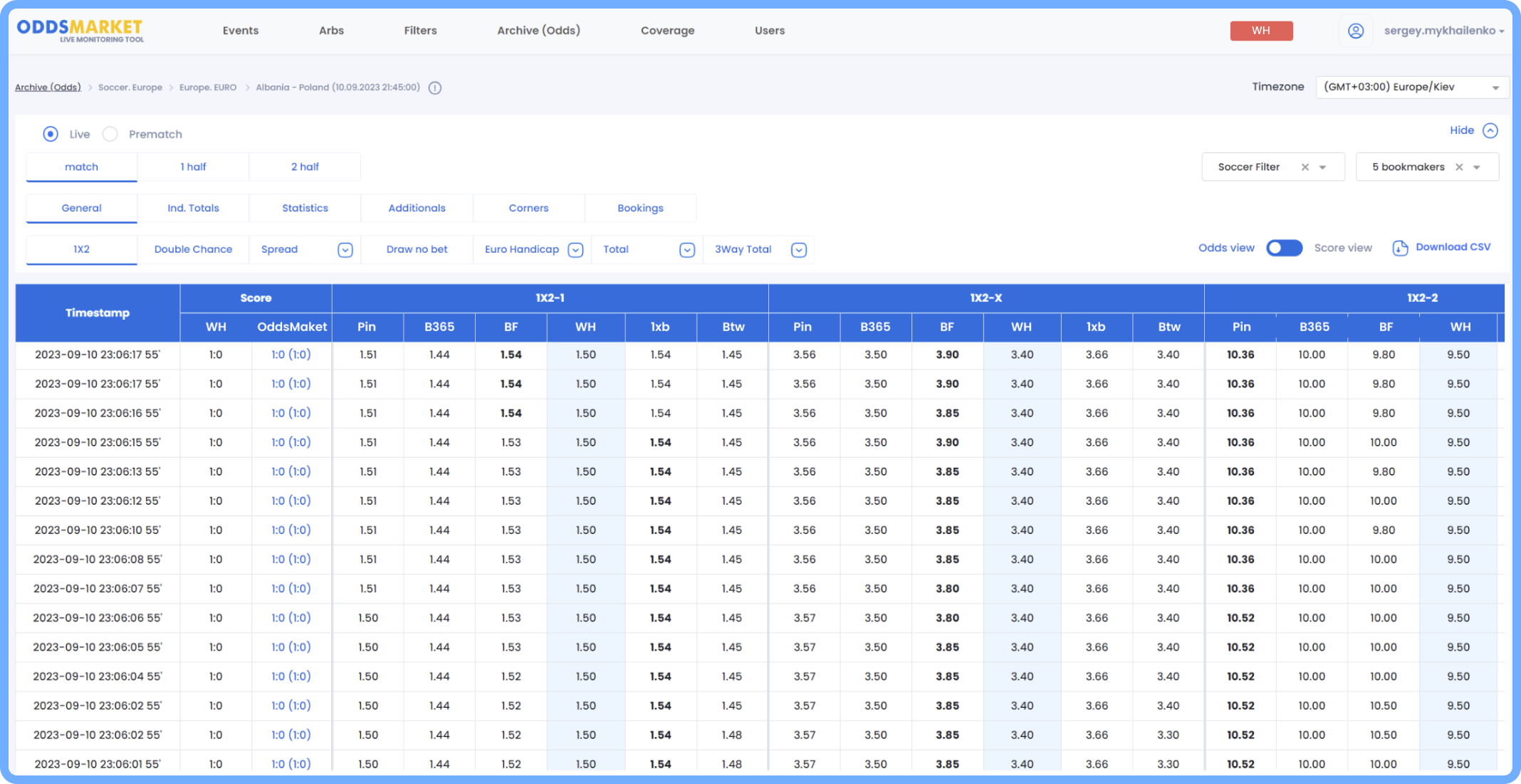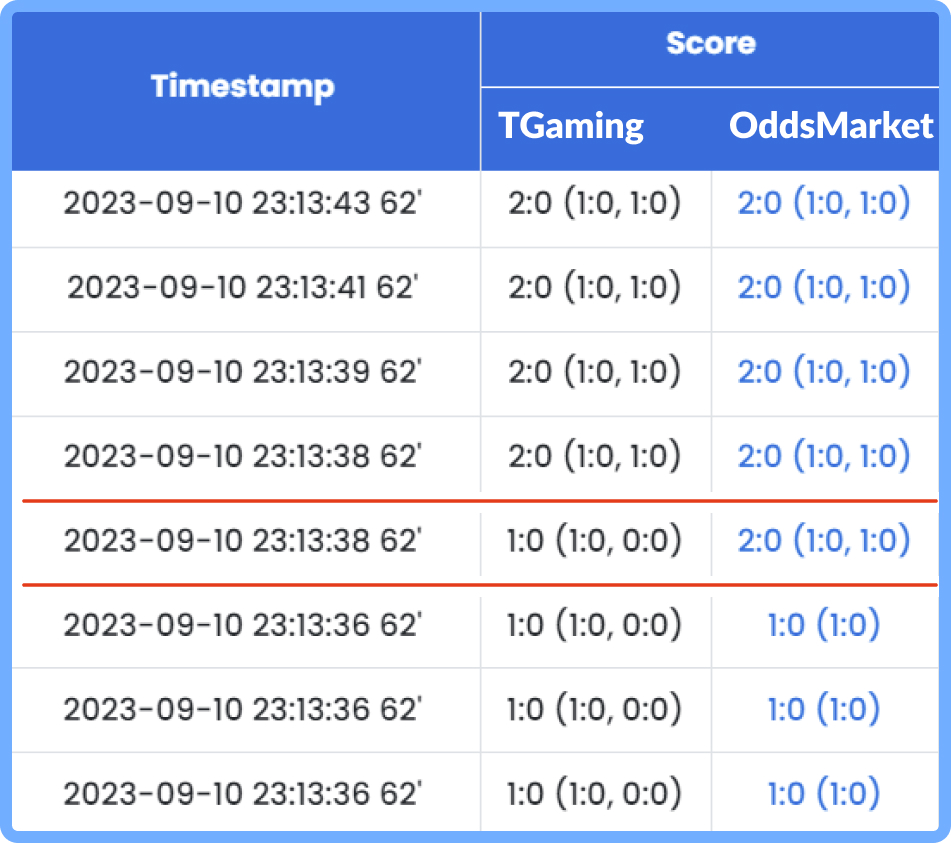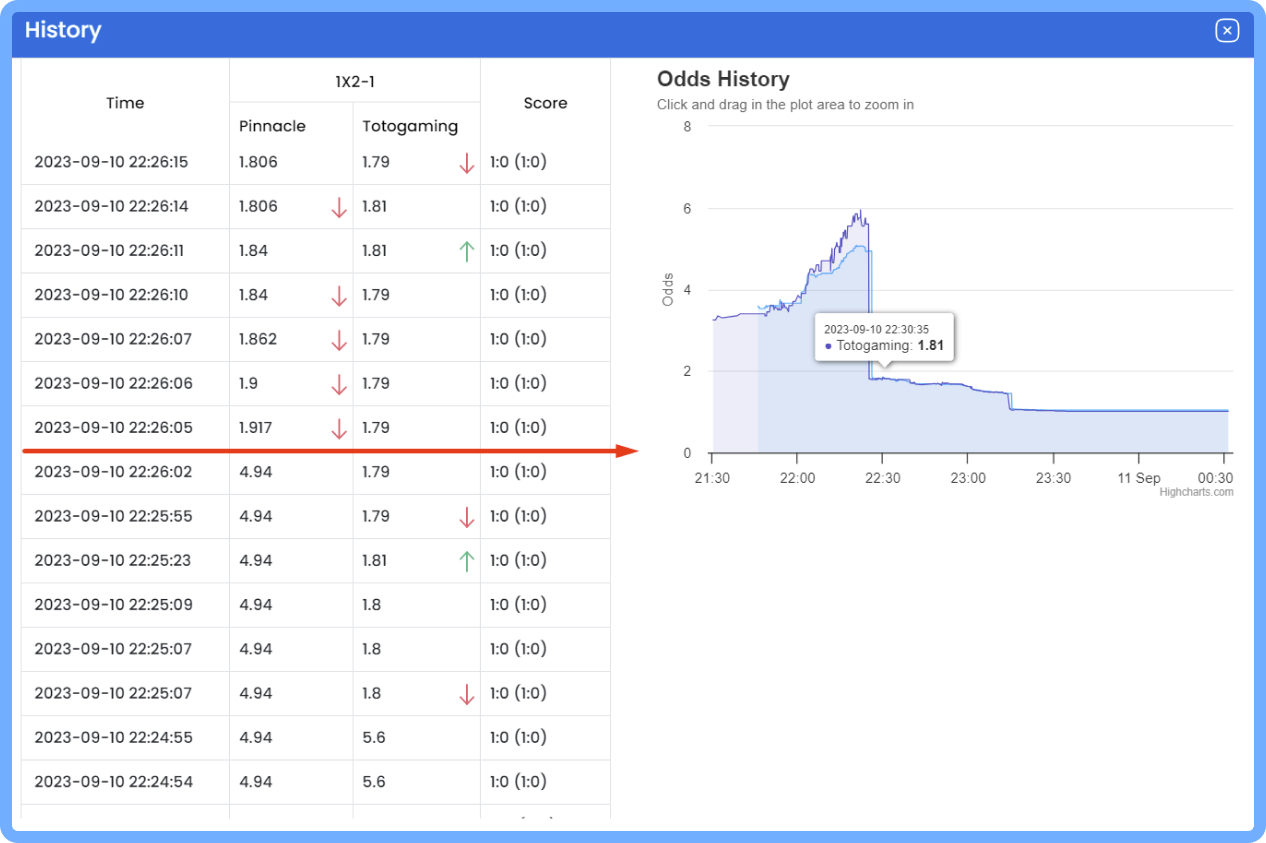 More tools to win
against
your competitors.
Arbs archive

Valuebets signals

Markets coverage comparison

Score accuracy and tracking

Blocked events
Testimonials
Our risk team has always relied on BetBurger.com for arbitrage signals. But with the introduction of the OddsMarket Monitoring Tool, our process has been taken to a whole new level. We now receive alerts for "market high" and "market low," besides the arbs. The Odds Archive has also proven incredibly useful in my daily reporting of our trading performance.

We have been acting as advisers to OddsMarket team when developing the Monitoring Tool since day one. Our risk and trading departments exceed thousand employees nowadays and we are heavy users of the Tool. In combination with their APIs we were able to significantly improve our margin to serve our operators better.

OddsMarket has been a trusted fast odds data supplier for us since 2019. They are responsible, always responsive, and open to any new propositions. We have a personal account manager always available in the chat and the 9am - 8pm ServiceDesk customer support reacting to our inquiries usually within a few hours.

See how Odds Monitoring Tool
can help you maximize your margins.